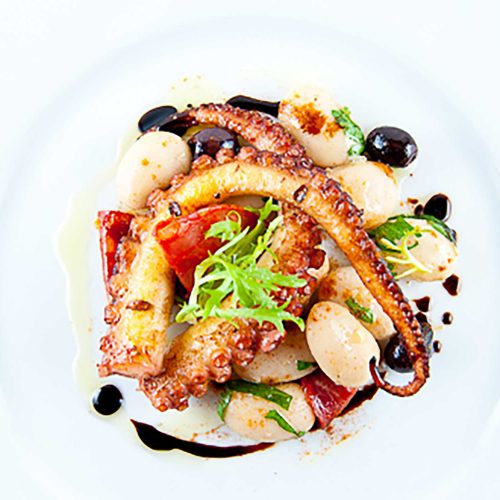 Grilled Sous-Vide Octopus w/ Corona Beans, Chorizo & Sherry-Smoked Paprika Vinaigrette
Equipment
Large Saucepan

Sharp Knife

Large Container for an Ice Bath

Grill

Sous Vide Immersion Circulator

Cooking Container
Ingredients
For the Octopus
1

medium-sized

octopus

1

carrot

roughly chopped

1

onion

roughly chopped

1

stalk

celery

roughly chopped

2

leaves

bay

2

sprigs

thyme

1

tbsp

peppercorn

1/2

cup

white wine vinegar
For the Corona Beans, Chorizo and Sherry-Smoked Paprika Vinaigrette
2

cups

corona beans

cooked

6"

link

Spanish chorizo

sliced

1/4

cup

parsley

chopped

1/4

cup

Nicoise olives

1/4

cup

aged sherry vinegar

1/2

cup

Spanish olive oil

1

shallot

finely chopped

1

clove

garlic

finely chopped

1

filet

anchovy

finely chopped

1

tsp

dijon mustard

1

tsp

smoked paprika

salt and pepper to taste
Instructions
For the Octopus
Place 8 cups of water and the carrot, onion, celery, bay leaves, parsley stems and black peppercorn in a large saucepan and bring to a simmer for 15 minutes.

Add the white wine vinegar and keep at a simmer.

Wash the octopus in plenty of cold water and remove the tentacles with a sharp knife.

Blanch the octopus for about 45 seconds and remove from the poaching and into an ice bath to cool rapidly.

Cool the poaching liquid.

Place the octopus in two separate sous-vide bags.

Add a few tablespoons of the poaching liquid to the bags and vacuum-seal on high.

Place the bags in the sous-vide machine for 4 hours at 185°F.

Open the bags, discard the liquid and the bags.

Remove the slimy membrane.

Place the octopus in a new bag with olive oil and seal again.

Keep refrigerated until ready to use.
For the Corona Beans, Chorizo and Sherry-Smoked Paprika Vinaigrette
Make a vinaigrette with the sherry vinegar, garlic, shallot, anchovy, smoked paprika, and olive oil.

Season with salt and pepper.

In a saute pan over medium heat crisp up the chorizo in a little olive oil.

In a small bowl, toss the corona beans, the olives, parsley, and chorizo with some of the vinaigrette.

Serve with the grilled octopus and add some more vinaigrette drizzle on top.

Sprinkle with smoked paprika.