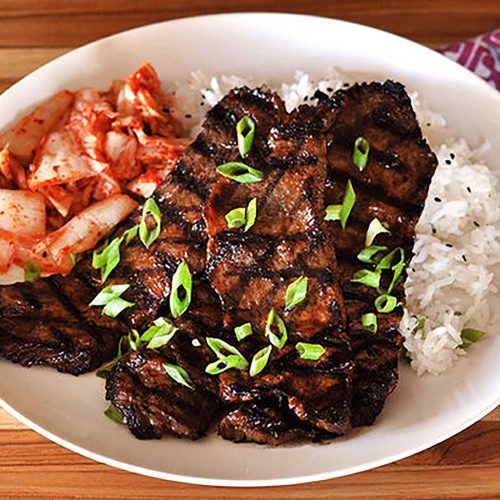 Sous Vide Boneless Korean-Style Short Ribs
Equipment
Sharp Slicing Knife

Blender

Grill

Sous Vide Immersion Circulator

Cooking Container
Ingredients
1

pack

Angus beef boneless short ribs

1

cup

dark soy sauce

2

tbsp

sesame oil

1/3

cup

brown sugar

3

tbsp

honey

1/3

cup

rice wine, or dry sherry

1

white onion

roughly chopped

1

Asian pear

roughly chopped

3

cloves

garlic

2

tsp

ginger

minced

2

tbsp

gochujang pepper paste

1

tsp

freshly ground black pepper

neutral oil
Instructions
Prepare the short ribs: carefully trim excess silver skin and connective tissue from the outside of the ribs, but be mindful not to trim too much fat. Using a sharp slicing knife with a long blade, slice short ribs against the grain into ¼-inch slices. Note: to make even slicing easier, you can put the short ribs in the freezer for about 30 minutes beforehand.

Make the marinade: in a blender combine soy sauce, sesame oil, brown sugar, honey, rice wine, onion, Asian pear, garlic, ginger, gochujang, and pepper; puree until smooth. Set aside 1 cup of the marinade in a covered container.

Then preheat an immersion circulator in a water bath to 138°F. Place ribs into vacuum bags and divide marinade evenly among them, turning ribs to coat. Vacuum/seal bags. Place bags into the water bath and cook for 6 to 8 hours. Remove the short ribs from the bags and blot dry with paper towels (discard remaining marinade).

When ready to cook, preheat a lightly-oiled gas or charcoal grill, or indoor grill pan, to high. In a small saucepan, heat reserved marinade over medium-high heat until reduced to a syrupy glaze, set aside.

Grill ribs, brushing once with reserved glaze, until nicely charred, about 1-2 minutes each side. Remove short ribs to a cutting board to rest for a few minutes. Serve immediately with rice and kimchi, or your favorite steamed vegetables.