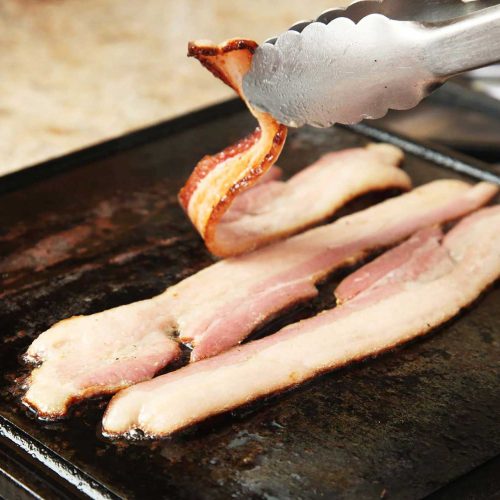 Overnight Sous Vide Bacon
Equipment
Skillet or Griddle

Sous Vide Immersion Circulator

Cooking Container
Ingredients
1

Lb.

Thick-cut bacon

Still in it's package
Instructions
Preheat a sous vide water bath to 145°F (63°C). Place bacon, still in its original plastic packaging, directly in water bath and cook for at least 8 and up to 48 hours. When ready to serve, remove from water bath and proceed immediately to step 2, or chill in refrigerator or freezer for later use (see note).

To finish, preheat a large skillet or griddle over medium-high heat for 5 minutes. Add bacon and cook, pressing gently with a press or the back of a spatula (just enough to keep it mostly flat), until brown and crisp on the first side, about 2 minutes. Turn bacon and briefly cook on second side, just to remove pale color (about 15 seconds).

Transfer to a paper towel–lined plate to remove excess fat. Serve immediately.
Notes
You can cook as much bacon as will fit in the water bath used in step 1. Cooked bacon can be refrigerated and stored for up to two weeks, or frozen and stored for months. Defrost before searing in step 2. Bacon can be cooked directly in its package. If it's unpackaged, cook in a vacuum-sealed bag or in a zipper-lock bag with the air removed.