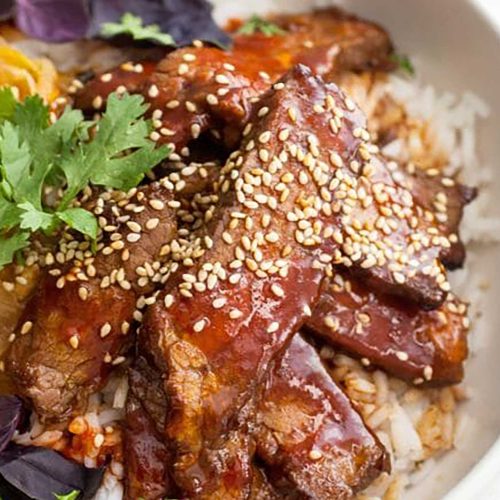 Sous Vide Beef Bulgogi Bowls
Equipment
Large skillet

Small Bowl

Sous Vide Immersion Circulator

Cooking Container
Ingredients
For the steak
1 1/2

lbs

flank steak

2

tsp

fresh ginger

grated

1

clove

garlic

minced

2

tbsp

soy sauce

1

tbsp

brown sugar

1

tbsp

rice wine vinegar

1

tsp

sesame oil

1

tbsp

oil
For the bulgogi sauce
1/3

cup

gochujang chili sauce

1

tbsp

soy sauce

1

tbsp

honey

1/2

lime

juice
To serve
white rice

cooked

1/2

cup

kimchi

2

tbsp

sesame seeds

garnish

Thai basil

garnish
Instructions
Prep the steak for sous vide: Add steak to a large gallon-sized zip-top freezer bag. Add the grated ginger, garlic, soy sauce, brown sugar, rice wine vinegar, sesame oil, and black pepper to the bag and mix well.

Seal the bag: Seal the bag by using the water-displacement method to help press out all the air: Just slowly lower the bag with the steak into the water, letting the pressure of the water press the air through the top of the bag. Once the top of the bag reaches the waterline and all the air has been released, seal the bag.

You can do this in the pot of water as it heats. (Just be careful if the water is already steaming!)

At this point, you can cook the beef immediately for storage in the fridge for later (2 days maximum), or freeze for up to a few weeks.

Heat the water: Fill a pot with water and place your immersion circulator inside. Set the temperature to 130°F and let the water come up to temperature.

Cook the steak sous vide: Once the water has come to temperature, submerge the sealed bag of steak completely to ensure the food cooks evenly.

Cook for at least 2 hours or up to 3 hours, remove from the water and turn off the circulator. At this point, the steak can be cooled and refrigerated for up to 2 days before slicing and searing, if desired.

Meanwhile, prepare rice, stir together the sauce, and prepare garnishes. Stir together the chili sauce, soy sauce, honey, and lime juice. and reserve about 1/4 cup to drizzle on the bowls later. Use the rest of the sauce when searing the steak.

Slice and sear the steak: When the steak is ready, remove it from the water and let it rest for 10 minutes. Remove the beef with tongs from the bag and slice the meat against the grain into thin strips.

Heat a tablespoon of oil in a large skillet over high heat, then add the sliced beef to the pan, sautéing for 1 minute to develop a quick sear. (Don't crowd the pan; cook in batches if needed.)

Add reserved sauce to the skillet with the beef and combine for another 15 to 20 seconds.

Garnish and serve: Serve beef over rice with juices from the skillet. Sprinkled with sesame seeds and add some kimchi on the side. Garnish with cilantro and/or Thai basil. Drizzle bulgogi sauce over the dish.