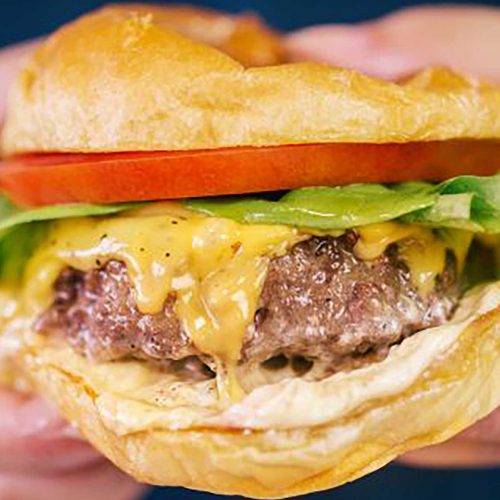 Sous Vide Burgers
Equipment
Beef Grinder (optional)

Large Bowl

Sous Vide Immersion Circulator

Cooking Container

Grill
Ingredients
900

grams

ground beef

20% fat recommended

1

large

egg

salt

as needed

black pepper

as needed

4

buns

(optional)

4

slices

cheese

(optional)

4

slices

tomato

(optional)

lettuce

(optional)
Instructions
Heat the sous vide to 133°F. This will result in our favorite doneness—rosy in color and very juicy. If you like your burgers very rare, opt for 126°F. If you like your burger more done, with just a hint of pink, you can go as high as 158°F.


Grind the beef: if you have a meat grinder, then recommend grinding your own beef. If you don't have the equipment, then buy some ready-made ground beef.

Mix ground beef and egg: in a bowl, combine ground beef and egg. (You can whip the egg up a little beforehand or just crack it into the bowl.) Using your hands or a spatula, mix until the egg is fully incorporated.

Portion patties: Use your scale to portion beef into 200 g patties.

Shape: To shape the patties, press the beef into a 4" (105 mm) ring mold. This will give a perfectly consistent patty. If you are not using a ring mold, shape the patties by first forming a ball to remove any air and cracks. Next, flatten the ball between flat palms, using your thumbs to pinch the sides into shape.

Season: Just before cooking, season patties with salt and pepper. Transfer to gallon-sized ziplock-style bags. We do two burgers per bag to avoid overcrowding.

Cook: Depending on how thick your patties are, they will take anywhere from 15 minutes (for a 0.5 in / 1.3 cm thick patty) to 30 minutes (for a 1 in / 2.5 cm patty) to cook. You can leave them in the water for up to an hour; however, and they will still be perfect.

Do other stuff!: With sous vide, there's no need to babysit your patties. You can leave them in the water while you set up some toppings, switch out the playlist, or shotgun some beers. Whenever you're ready to eat, your burgers will be waiting.

Cool: Let burgers cool to room temperature while you prepare your platter of condiments. This will help them keep their shape when you sear.

Sear on a ripping-hot grill!: Transfer patties to a hot grill and sear 45 seconds. Flip, add cheese if you want, and sear for 30 more seconds. Cover, and cook 15 additional seconds to melt the cheese. NOTE: No grill? Not an issue. You can finish your burgers under the broiler or in a pan on the stove too. 

Eat up: Congratulations, friend. You will never eat an overcooked burger again. Top it off with your favorite burger toppings and enjoy!