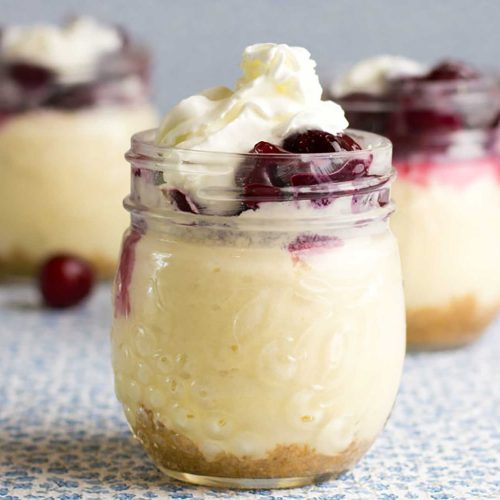 Sous Vide Cherry Cheesecake in a Mason Jar
Equipment
Cherry pitter

Sauce Pan

Sous Vide Immersion Circulator

Cooking Container

Mixer

Mason Jars
Ingredients
For the Topping:
2

cups

fresh cherries

pitted

1/4

cup

granulated sugar for the cherries

whipped cream

cornstarch
For the Cheesecake
16

oz

Philadelphia brand original cream cheese

1/2

cup

granulated sugar

1/4

cup

heavy (whipping) cream

1

tbsp

vanilla

2

eggs

lightly whisked to break up the yolks

graham cracker crumbs
Instructions
If you are using fresh cherries:
Put the pitted cherries in a saucepan, over medium heat.

When the cherries begin to release their liquid: add the sugar, stir to combine, and turn the heat up to bring to a boil.

Once boiling, reduce to a simmer.

Let the cherries simmer for a few minutes until they seem tender.

Add the cornstarch a little at a time, stirring constantly until the liquid has thickened to a consistency suitable for the topping.

Remove from the heat and let cool.
Making the Cheesecake:
Set the Anova or your sous vide machine to 176°F and start it,

Add a thin layer of graham cracker crumbs to the bottom of each jar.

Put the cream cheese in your mixer's mixing bowl and beat until it has softened a bit.

Add the vanilla, sugar, and heavy cream.

When the ingredients are fully combined, add about half the egg mixture. When fully combined add the remainder of the egg mixture.

Turn the mixer up and mix the filling until it has a smooth consistency.

Fill the jars to the bottom of the threads. Then place a lid on each jar, and lightly screw the rings down. You want air to be able to escape. The main reason, for the lids and rings, is so that you do not inadvertently splash water into the filling, as well as give you something easy to grab onto when it's time to remove the jars from the water bath.

When the water bath has come up to the correct temperature, put the jars into it. Let them cook for 90 minutes.

At the end of that time remove the jars from the water bath and let them cool on the counter for a few minutes, then place them in the refrigerator until completely chilled.
To Serve:
Remove the ring and lid from each jar.

Spoon some cherries on top of the cheesecake.