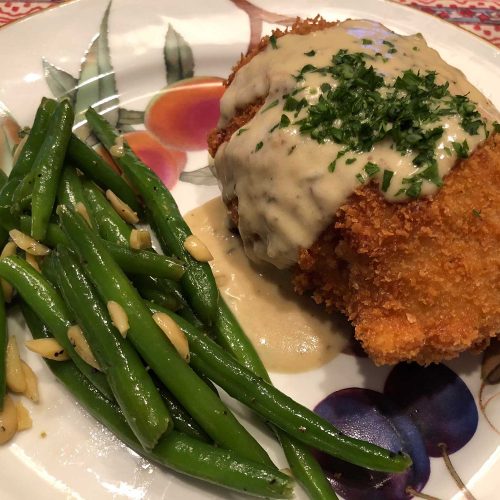 Sous Vide Chicken Cordon Bleu
Equipment
Cast Iron Skillet

Sous Vide Immersion Circulator

Cooking Container
Ingredients
For the Chicken
large

chicken breast

boneless

ham slices

Swiss cheese slices

panko bread crumbs

flour

eggs

salt and pepper
For the Dijon Cream Sauce
1 1/2

tbsp

butter

1 1/2

tbsp

flour

1 1/4

cups

milk

2

tbsp

Dijon mustard

1

tbsp

garlic powder

1

cube

chicken bullion

crushed

3

tbsp

parmesan cheese

finely grated

1

tsp

thyme leaves

(optional)

salt and pepper
Instructions
First, begin with a large chicken breast. You can either create a slit inside of the breast big enough to insert a slice of ham surrounding a slice of Swiss cheese or you can flatten the breast with a mallet and roll the breast around the ham and cheese. The vacuum bag will hold the breast together either way. Don't forget to season the stuffed breast with salt and pepper.

Place the stuffed breast into a water bath set at 140°F for 90 minutes (remember it won't overcook so you can always let it sit for as long as your need). Shortly before you're ready to serve (about 15 minutes) get the oil in your deep fryer or skillet heated to 350°F. Now take a breast out of its vacuum bag and cover it with flour. Then place it into an egg wash. Then cover it with panko or breadcrumbs. Before you start frying you'll want to prepare the Dijon Cream Sauce.

Fry until the breasts are golden brown (remember they are already cooked so you're really just going for appearance).
Making the Dijon Cream Sauce
Begin by melting the butter over medium heat in a saucepan. Next add the flour and cook for a couple of minutes. Then add half of the milk and whisk until it is well blended with the flour. Add the remaining milk, mustard, garlic powder, bullion, and cheese. Cook for three minutes, whisking constantly until thickened (it will thicken as it cools). Remove from heat and stir in the thyme and add salt and pepper to taste. Serve with the chicken.
Notes
Note on Cheese: So you might have noticed that the cheese didn't really escape the chicken in my pictures. While the Swiss was soft it wasn't completely melted. It occurred to me that the temperature of the sous vide bath might not be high enough to melt the Swiss completely. It turns out that complete melting of soft cheeses like mozzarella occurs at 130°F, but 150°F for low-moisture cheeses like Swiss. I wondered if the combination of the 140°F water bath and the 350°F fryer would get the cheese to the temperature required to melt the Swiss cheese. So I think the Swiss worked, but I wonder if I'd be better off with mozzarella next time.