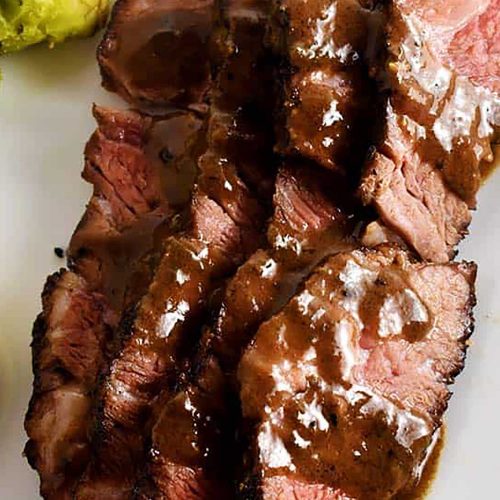 Sous Vide Chuck Roast
Equipment
Cast Iron Skillet

Sous Vide Immersion Circulator

Cooking Container
Ingredients
3

lbs

chuck roast

Kosher salt

coarse ground black pepper

8

cloves

garlic

3

sprigs

rosemary

2

tbsp

avocado oil

1

cup

red wine

1

tbsp

butter

cold

beef stock

for pan sauce (optional)
Instructions
Set Sous Vide machine to 135°F and prepare the water bath.

Season the roast generously with Kosher salt and the coarse ground black pepper. Make sure to get every surface, even the sides.

Once the meat is seasoned, place in a vacuum sealer bag. On each side of the meat, add 3 cloves of garlic and 1 sprig of rosemary. Seal tightly and place in the water bath.

Allow roast to cook for 29 to 36 hours.

Remove roast from the water bath. Hold the bag upright and cut across to open, making sure not to spill the juices.

Pat the roast dry and let rest for 20 minutes.

About 15 minutes in, begin bringing a large cast-iron pan up to temp. Gradually increase the heat to medium-high.

Just before cooking, add avocado oil and bring to temp.

Next, add the chuck roast to the pan, pressing it into the bottom of the pan to help all surfaces get a good sear.  Cook for 30 seconds, then flip it over using tongs.

Now, using the tongs, flip the roast so that each side sears for 30 seconds as well.

Reduce heat to medium and add butter, garlic, and rosemary to the pan.  Repeat the sear process, hitting every side for 30 seconds.  This time, use the rosemary to push the butter over the roast as it cooks.

Once all sides have their second 30-second sear, remove the roast to a cutting board.

As soon as you remove the roast, add one cup of red wine then quickly reduce the heat to medium-low.  Use a spatula or spoon to scrape up as much as you can from the bottom of the cast-iron.

Once the wine has reduced by half, add the juice from the sous vide bag.  There should be about 2 cups worth. If there's not, add beef stock until you have enough.  Continue cooking, stirring occasionally until sauce reduces by half.  Turn off heat, and add 1 tbsp of cold butter to the pan.  Stir until butter has fully melted and then remove from burner.

Cut roast against the grain and serve with pan sauce spooned over top.