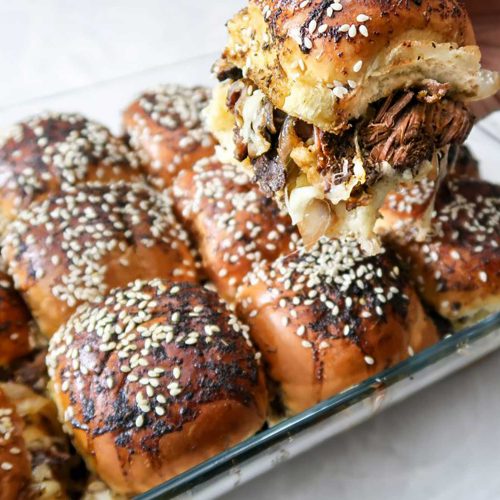 Sous Vide French Onion Short Rib Sliders
Equipment
Baking Dish

Large Bowl

Sous Vide Immersion Circulator

Cooking Container
Ingredients
For the Short Ribs
1

tbsp

Worcestershire sauce

2

onions

2

tbsp

butter

1

tbsp

sugar

3

cloves

garlic

minced

4

lbs

short ribs

(about 8)

1/4

cup

Worcestershire sauce

1/4

cup

beef broth

3

sprigs

fresh thyme

salt and pepper to taste
For the Sliders
1

onion

1

carton

sliced baby portabella mushrooms

1

tbsp

butter

1

tsp

sugar

12

small

buns

6-8

slices

provolone

1/2

cup

shredded gruyere
For Top of the Bun
1

tbsp

butter

3

tbsp

sauce from the sous vide bag

1

tsp

garlic salt

1

tsp

onion powder

1

tsp

fresh thyme
Instructions
Set your Sous Vide to 185°F in a deep water bath (large saucepan, at minimum).

In a baking dish, marinate short ribs in 1/4 cup Worcestershire sauce, 1/4 cup beef broth, a sprinkle of fresh thyme and salt and pepper to taste. Set aside.

1/4 cup beef broth, a sprinkle of fresh thyme and salt.

Reduce heat to medium-low and add sugar and 1 tbsp Worcestershire sauce. Mix and simmer for 8-10 more minutes, until onions are golden brown.

Add minced garlic and cook for 1-2 more minutes.

In a plastic bag, place marinated short ribs, the liquid, and the caramelized onions, making sure they're evenly distributed.

Lay flat and seal the bag using a vacuum sealer.

Place the sealed short ribs in the water bath to cook for 24 hours.
24 Hours Later
Retrieve the short ribs from the water bath and pour the contents into a large bowl. Using your hands or a fork), shred the beef. You may be able to salvage a small bit of the first batch of onions, but they'll mostly be mush.

Cut 1 onion into thin slices and caramelize with sliced mushrooms in butter for 10 minutes. Add sugar and simmer for another 2-3 minutes until golden brown.

Prepare a baking dish with cooking spray and line with the bottom half of the buns.

Place a layer of provolone cheese, a generous layer of shredded beef, a layer of the caramelized onions and mushrooms, and a layer of shredded Gruyere cheese. Top with the other half of the bun.

Melt 1 tbsp of butter and mix with 3 tbsp of the liquid from the Sous Vide bag, garlic salt, and onion powder.

Brush the top buns with the mixture and sprinkle with fresh thyme.

Bake sliders for 10-15 minutes, or until the cheese is melted. Serve hot!