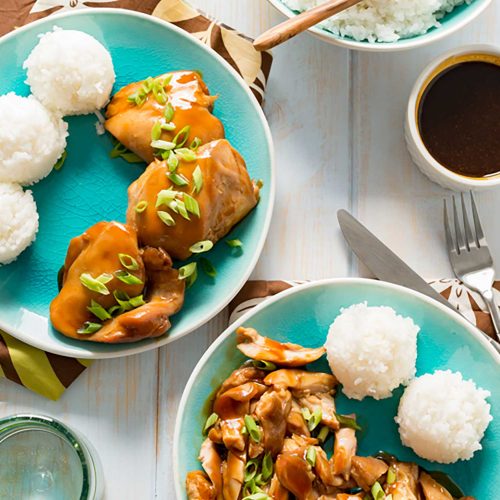 Sous Vide Hawaiian Shoyu Chicken
Equipment
Pot

Platter

Sous Vide Immersion Circulator

Cooking Container
Ingredients
6

lbs

chicken thighs

boneless and skinless, rinsed and dried

6

cloves

garlic

large, peeled and minced

3"

knob

ginger

peeled and cut into 3 pieces

1

cup

green onion

thinly sliced for garnish
For the Marinade and Glaze
1 1/2

cup

soy sauce

3/4

cup

light brown sugar

packed

2

cups

chicken broth

1/2

cup

mirin

1

tbsp

fish sauce
Additional Ingredients for the Glaze
3

tbsp

cornstarch

1

tbsp

water
Instructions
Fill a large pot with water. Attach the Nomiku sous vide to one side making sure the water is at the correct level and set the temperature to 147.2°F. Preheat water according to sous vide instructions.

Divide the chicken amongst three large resealable baggies. Place one piece of ginger in each baggie and divide the garlic between the bags. Keep bags open and set aside.

In a large bowl whisk together the marinade ingredients. Divide equally between the bags of chicken. Take the bags, one at a time, and slowly lower into the pot - the water will press the air to the top and once you reach the top of the bag, seal it before any water gets in. Attach the bag to one side of the pot, or drape the top of the baggie over, so the chicken is fully submerged. Repeat with other bags. Cook for 3 hours making sure the water level stays where it's supposed to be and the temp is at 147.2°F the whole time.

Once the chicken is cooked remove from the bags and strain half the liquid into a pot to reduce for the glaze. Keep the chicken in a bag and put back in the sous vide pot but with the sous vide turned off. The chicken will keep warm but won't keep cooking.

To make the glaze: bring the marinade to boil until it starts to reduce. Mix the corn starch with water to make a slurry then add to the glaze. It will bubble up, keep stirring until the glaze has thickened. If you desire a thicker glaze add more corn starch slurry.

Place the chicken on a platter or bowl and pour the glaze over. There will be a good amount of glaze, so you can keep some in a small bowl to dip into. You can leave the chicken thighs whole or fork shred. Sprinkle the sliced green onions over the top and serve immediately.
Notes
This chicken is so tender it shreds super easy with a fork or you can leave the pieces whole.