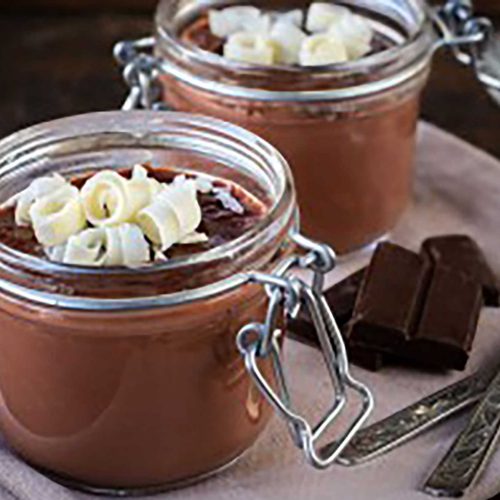 Sous Vide Mexican Chocolate Pots du Creme
Equipment
Saucepan

Small Bowl

Ramekins/Small Pots/Custard Cups

Sous Vide Immersion Circulator

Cooking Container
Ingredients
1

cup

heavy whipping cream

1/3

cup

whole milk

1

whole tablet

Ibarra Mexican Chocolate

chopped

1

tbsp

sugar

3

egg yolks

2

tsp

cocoa powder

1/4

tsp

vanilla extract

1/8

tsp

sea salt
Instructions
Elevate the bottom perforated grill of the SousVide Supreme on a non-rusting baking rack or baking platform.

To properly fill the water bath to the correct level:



Fill the pots (ramekins or custard cups you will use) with water



Set the pots on the perforated grill of the water bath



Add enough water to the bath to bring the water level halfway up the sides of the ramekins



Remove the pots, empty, and dry well. Set aside.



Preheat the SousVide Supreme water oven to 180°F.

In a saucepan on a traditional stovetop, scald the heavy whipping cream and milk. Shut off the heat and pour the milk and cream over the chocolate and sugar. Let sit for 5 minutes.

Meanwhile, in a small bowl, whisk together the egg yolks, cocoa powder, vanilla and sea salt. Set aside.

After 5 minutes, stir the chocolate and cream together until well mixed.

Whisk in the egg mixture.

Fill the pots with the crème base and put them carefully onto the baking rack in the water oven. Cover the pots with a sheet of aluminum foil or plastic wrap (cling film) to keep drops of condensation out.

Cook in the cooking container for 30 minutes, or until the centers are almost set but still a bit wobbly.

Remove the pots, from the cooking container, and let them cool for about 20 minutes at room temperature; then chill them, in the refrigerator for at least 2 hours prior to serving.

Garnish with the shaved Mexican chocolate and a dollop of freshly whipped cream.