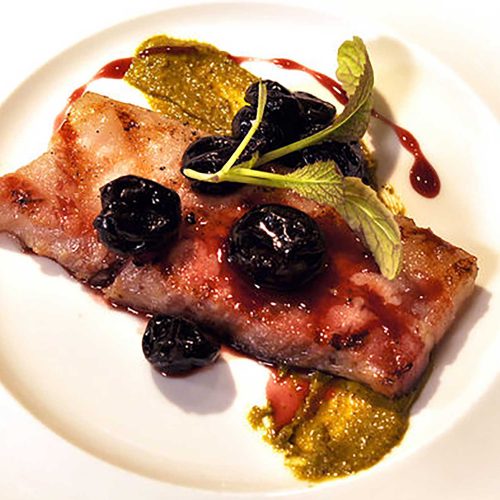 Sous Vide Pork Belly with Cherry Compote
Equipment
Sanitized Container

Doubled Square of Cheesecloth

Kitchen String

Medium Saucepan

Sous Vide Immersion Circulator

Cooking Container
Ingredients
1

Berkshire pork belly, ribs and skin
For the Cure
2 1/2

liters

water

70

grams

salt

75

grams

sugar

1

jalapeno

sliced

25

grams

fish sauce

2

cloves

garlic

smashed

3

grams

ginger

peeled and smashed

3

grams

scallions

sliced

25

grams

onion

julienned

12

grams

celery root

cut in small dice

1

gram

cloves

ground

55

grams

pink curing salt

(tinted curing mixture)

1/4

bunch

parsley

1/4

bunch

cilantro
For the Dried Cherry Compote
1

star

anise

1

stick

cinnamon

1

clove

1

gram

coriander seed

2

grams

yellow mustard seed

1

sprig

rosemary

1

Japones dried chili

1

nub

ginger

peeled and crushed

18

grams

Turbinado sugar

16

grams

Kirsch

25

grams

apple cider

125

grams

dried cherries

55

grams

Ruby Port

50

grams

water
Instructions
Combine all cure ingredients (except pork belly) in a sanitized container and stir until salt and sugar are dissolved. Brine pork belly for 4-5 days in the refrigerator. Discard brine. Cook the pork belly sous vide in an immersion circulator at 150.8°F for 24-36 hours, until tender. Chill in the refrigerator until ready to use.

For the dried cherry compote: Place the first 8 ingredients into a doubled square of cheesecloth and using kitchen string, tie into a sachet. In a medium saucepan, over medium-high heat, combine sugar and cider. Cook slowly until an amber caramel forms. Deglaze with the port and 1 gram of Kirsch. Add cherries and sachet. Cook for 5 to 7 minutes. Add remaining Kirsch and water. Bring back up to a boil then remove from heat and steep in a warm place.
Notes
This sous vide pork belly recipe is a great entry-level sous vide dish and the mouthwatering results are definitely worth the wait.