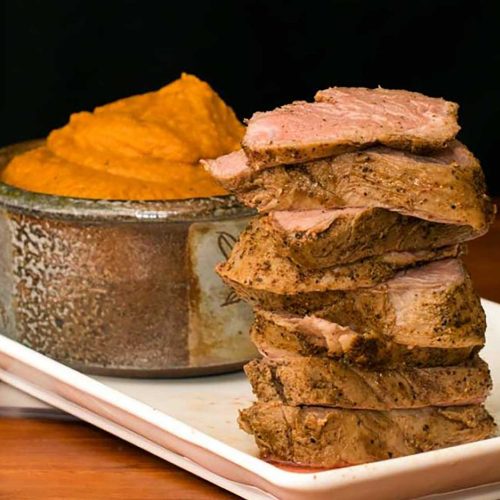 Sous Vide Pork Tenderloin with Chili Rub
Equipment
Small Bowl

Large skillet

Sous Vide Immersion Circulator

Cooking Container
Ingredients
1

lb

pork tenderloin

2

tsp

lemon juice

1

tsp

chili powder

1/2

tsp

garlic powder

1/4

tsp

chipotle

1

tsp

salt

1/2

tsp

pepper
Instructions
In a small bowl combine the chili, chipotle, and garlic powders with the salt and pepper.

Trim any loose pieces or extra fat from the pork and rub it down with the lemon juice.

Coat the tenderloin with the spices, seal it inside a bag, and place it into a water bath at 133ºF for at least 1 hour and up to 3 hours.

When the tenderloin has finished cooking, remove it from the bath, and pat it dry with a paper towel.

To finish on the stove: sear it in a hot pan with a little olive oil for 2 to 3 minutes on each side.

To serve: slice the pork into rounds around an inch thick.
Notes
If you're finishing it on the grill (instead of the pan), preheat the grill to medium-high and grill the tenderloin for 2 to 3 minutes per side.
The goal for either method is to use medium-high heat to develop a nice crust on the outside without overcooking the middle.