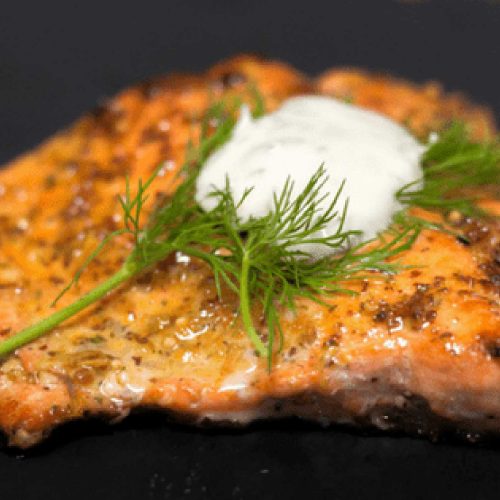 Sous Vide Salmon with Crispy Skin & Lemon Dill Sauce
Equipment
Bowl

Glass Pan

Sous Vide Immersion Circulator

Cooking Container
Ingredients
1/4

cup

Kosher salt

4

cups

cool water

8

oz

creme fraiche

1

lemon

1/3

cup

fresh dill

chopped

3

tbsp

olive oil
Instructions
The first thing is set up your water and sous vide machine.  Set the temperature to 120-135°F.  If you want to crisp your skin up, set it to 120°F. It'll give you some temperature space to get it crisped without overcooking the fish.  If you're not going that route, set to 135°F.

Next, we're gonna brine the fish for 30 minutes. Heat up about 1/3 cup of water and mix with the salt. Once dissolved, place it in a glass pan with the remaining 3 2/3 cups of water and the olive oil. If the water is not cool, just toss in a few ice cubes. Place the fish in the brine and let it hang out in the fridge for about 30 minutes.

Time to whip up the lemon dill sauce. Empty the creme fraiche into a bowl or container. Zest the entire lemon and toss it in, along with the chopped dill. Add the juice from the entire lemon. Combine and chill.

After the fish has hung about in the brine for 30 minutes and your sous vide machine has gotten the water to your temperature setting, remove the fish from the brine. It's time to seal it up. At this point, if you want to add some garlic slices or lemon slices or whatever, you can. If using a vacuum sealer, seal it up. If using zip-top bags, try to get as much air out as you can. Pop in the water for 20 minutes.

After 20 minutes, start getting your skillet screaming hot with some butter or oil. While that's getting hot, remove your fish. Pat dry with paper towels to ensure a good sear. When the pan is hot, place the fish in the skillet skin side down until crispy.  It'll take a moment and you'll start to see white "coagulation" on the top of the fish.  You're fine. Remove the fish from the pan and top with the lemon dill sauce.
Notes
If you're gonna use regular table salt in the brine, decrease it by 1/3. It's saltier than Kosher or sea salt, so you might get too much salt for your liking and ruin a beautiful piece of fish.
Not everyone likes the crispy skin. If you're not gonna crisp the skin up, but still want it to look more attractive, go ahead and throw some seasoning on it and put it in a hot skillet just for a few moments to make it look better.
If you have the Instant Pot Ultra or Smart, you can always use that if you don't have a sous vide stick. Just click on the ultra setting, adjust the temperature, and make sure you choose no pressure. When it comes to temperature, toss your fish in for 20 minutes.