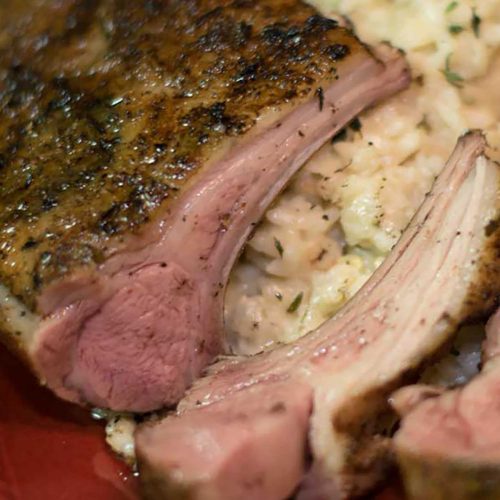 Sous Vide Rack of Lamb with Rosemary and Garlic
Equipment
Grill

Sous Vide Immersion Circulator

Cooking Container
Ingredients
1 1/4

lb

rack of lamb

1 1/2

tsp

salt

1/2

tsp

pepper

1

clove

garlic

2

tsp

rosemary

minced

1/2

tsp

olive oil

1/2

tsp

lemon juice

2

lemon wedges

garnish
Instructions
Start by setting up your water bath and bringing the temperature to 134℉.

Mix the rosemary, garlic, salt, and pepper together with the olive oil and lemon juice. Rub the seasoning onto the rack of lamb, making sure to get it into all the nooks and crannies.

Seal the rack of lamb in a plastic bag and cook it for two hours. When the rack of lamb has finished cooking take it out of the bag and finish it on the grill.

Grill the rack of lamb on a medium-high grill for 2 to 3 minutes each side until you've got a good crust on the outside. Make sure to watch the lamb, so it doesn't flare-up.

Cover the lamb with foil and let it rest for 5 to 10 minutes. To serve: cut in between the ribs to carve out individual chops. A little squirt of lemon juice helps to bring the flavors together.