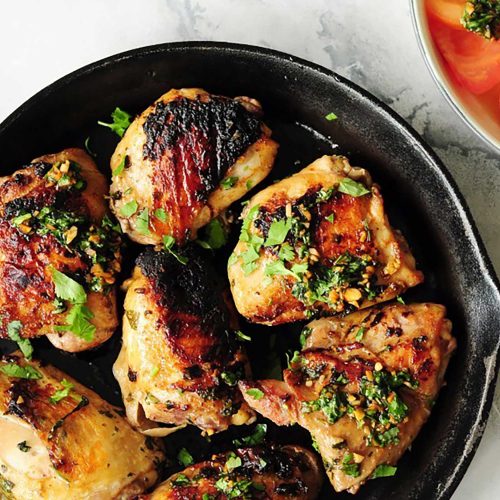 Thai Sous Vide Chicken Thighs with Tomato Salad
Equipment
Small Bowl

Cast iron pan

Sous Vide Immersion Circulator

Cooking Container
Ingredients
1/4

cup

fresh basil

coarsely chopped, divided

1/4

cup

fresh cilantro

coarsely chopped, divided

1 1/2

tbsp

fresh ginger root

finely grated

2

tbsp

brown sugar

3

tbsp

reduced-sodium soy sauce

3

tbsp

extra virgin olive oil

1 1/2

tbsp

garlic

minced

1 1/2

tbsp

sriracha

1 1/2

tbsp

fish sauce

1 1/2

lbs

chicken thighs

bone-in, skin on

4

medium

tomatoes

sliced
Instructions
In a small bowl, combine basil, cilantro, ginger, brown sugar, soy sauce, olive oil, garlic, sriracha, and fish sauce until blended. Reserve one-half of the marinade.

Place remaining half of the marinade in a large Ziploc bag; add chicken and knead to coat. Let stand 30 minutes (or overnight) in the fridge to marinate.

When ready to cook, preheat the sous vide immersion circulator to 149°F. Take out the marinated chicken from the fridge and open the bag. Slowly lower your bagged chicken into the water bath, using the water displacement method, letting the pressure of the water press air out through the top of the bag. Once most of the air is out of the bag, carefully seal the bag just above the waterline. Cook for 2 hours.

Slice the tomatoes and set aside.

When the chicken is done, remove the bag from the water bath and pat gently with paper towels. Heat some oil in a non-stick or cast-iron pan over high heat until very hot. Place the chicken in the hot pan to sear, skin side down. Press the chicken down slightly to allow good contact between the skin and the pan. Sear for 2-3 minutes or until the skin is golden brown and crispy. You should be able to lift the chicken easily at this point.

Divide the tomatoes into 4 equal portions and place on 4 serving plates. Place chicken on top and drizzle with the reserved Thai marinade. Add more kosher salt or freshly ground black pepper; sprinkle with freshly chopped basil and cilantro if desired. Enjoy!
Notes
If you prefer, you may transfer the marinated chicken into a sous vide bag, discard the marinade, and seal it with a vacuum sealer before adding it to the water bath.
When searing the chicken, wear gloves and long sleeves if you are very sensitive to small oil splatters.
If you sous vide a big batch, transfer the bagged chicken to an ice bath after cooking. When it's chilled completely, chicken can be stored in the refrigerator for up to three days before finishing and serving. In this case, you might want to reserve or discard the chicken juices first to prevent having gelled juices around your chicken thighs. Therefore, you can directly sear the chicken when you are ready without waiting for the juices to thaw first.
If you'd like some extra sauce, reserve the chicken juices after cooking, add a pat of butter and simmer it down to half as a pan sauce.