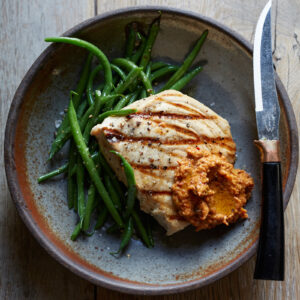 Sous Vide Swordfish with Romesco Sauce
Equipment
Sous Vide Immersion Circulator

Large Bowl

Roasting Sheet Pan

Blender

Cooking Container
Ingredients
For the Swordfish
4

6 oz

swordfish portions

1/4

tsp

coriander

2

tbsp

olive oil

1/2

tsp

paprika
For the Romesco Sauce
1

tbsp

fresh lemon juice

3

plum

tomatoes

coarsely chopped

1/2

cup

roasted almonds

1/2

cup

roasted red peppers

coarsely chopped

1/4

cup

fresh parsley

1

tbsp

olive oil

1/2

tbsp

paprika

1/4

tsp

cayenne pepper powder

2

cloves

garlic
For the Asparagus
1

tbsp

garlic

minced

2

lbs

asparagus

ends trimmed
Instructions
For the Swordfish
Preheat a water bath to 130°F.

Mix the spices together in a bowl.

Salt and pepper the swordfish then sprinkle with the spice mixture.

Place in the sous vide bag with the olive oil and lightly seal.

Let the fish sit for 30 minutes for the dry brine to take effect then place in the water bath and cook for 15 to 45 minutes, until heated through.
For the Romesco Sauce
Place two-thirds of the red peppers and the 3 tomatoes into a blender.

Add the almonds, parsley, olive oil, paprika, cayenne, garlic, and lemon juice.

Blend until relatively smooth.

Salt and pepper to taste.

Add the remaining red pepper and tomato then blend until just broken up.
For the Asparagus
Preheat an oven to 400°F.

Toss the garlic and asparagus with olive oil then salt and pepper it.

Place on a roasting sheet then cook, stirring once or twice, about 20 to 30 minutes or until tender.
To Assemble
Take the swordfish out of the bag and dry it thoroughly using paper towels or a dish-cloth.

Sear one side over high heat just until browned, 1 to 2 minutes.

Place some asparagus on a plate and top with the swordfish.

Spoon the romesco sauce on top and sprinkle with the lemon zest.

Top with the basil leaves, drizzle with olive oil then serve.