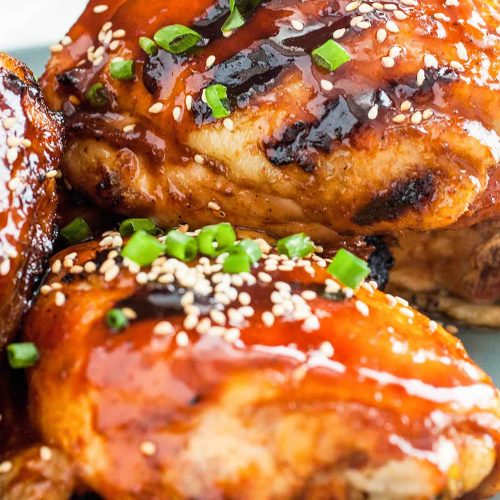 Sous Vide Korean BBQ Chicken
Equipment
Grill

Sous Vide Immersion Circulator

Cooking Container
Ingredients
10-12

chicken thighs

bone-in, skin-on

1/2

cup

hoisin sauce

1/3

cup

gochujang Korean chili sauce

3

tbsp

apple cider vinegar

3

tbsp

honey

1

tbsp

soy sauce

sesame seeds

garnish

scallions

garnish
Instructions
Make the Korean BBQ sauce: Combine the hoisin sauce, gochujang, vinegar, honey, and soy sauce in a medium bowl. Stir together well and set aside.

Prepare the chicken: Rub the chicken with 1/3 cup or so of the sauce – enough so that all of the thighs are coated with a little sauce. Reserve the remaining sauce for basting the chicken later.

Place the thighs in a plastic freezer bag. Make sure the chicken is in a single layer; use two bags if you need to rather than overlapping the chicken.

Seal the chicken: With your hands, press out as much air as possible from the bag and partially seal the top. Slowly submerge the plastic bag in a pot filled with water up to the top of the bag, pressing out as much air as possible. Seal the bag once you reach the top.

At this point, you can dry the bag and freeze the chicken for up to 3 months before cooking.

Heat the sous vide water bath: When you are ready to cook, add your immersion circulator to the pot of water and heat to 158°F.

Cook the chicken sous vide: Add chicken to the pot of hot water, making sure all of the chicken thighs are fully submerged in the water. Cook for 3 to 5 hours; the chicken is ready any time within this time frame. (Cook for at least 4 hours if cooking from frozen.)

Make sure your cooking bags are completely submerged in the water throughout the cooking time. I also like to rotate them once halfway through to make sure they are cooking evenly.

Heat a gas or charcoal grill to high heat: About 500°F or until you can hold your hand 1 inch over the grates for 1 to 2 seconds.

Finish the chicken on the grill: Remove the chicken from bags and transfer to a platter. Place the chicken skin-side up on the grill, and grill for 1 to 2 minutes. Baste with some of the extra sauce, then flip the chicken skin-side down. Baste with some more sauce and grill for another 1 to 2 minutes. You should have some nice grill marks on both sides at this point. Continue to baste with BBQ sauce and flip a few times if you like. Remember, the chicken is already cooked at this point, so we're only grilling to sear the outside.

Serve! When chicken is grilled on both sides, remove it from the grill and transfer to a clean platter. Garnish with sesame seeds and scallions, and serve immediately.
Notes
This recipe can be easily halved to feed smaller crowds, or doubled to feed larger crowds.